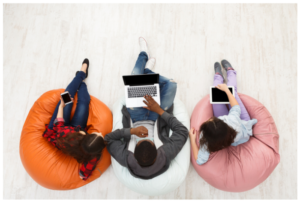 ITIF 2019 Awardees Announced
We are pleased to announce the 2019 awardees. Projects came from Nursing, Pharmacy, Occupational Science & Therapy, Biology, Public Health, Engineering, Medicine, Social Work, and Book & Media Studies
To read more, please see:
https://www.itif.utoronto.ca/currently-funded-projects/
About ITIF
Three Funding Streams
ITIF's three-tiered system is intended to provide opportunities for technology-mediated teaching and learning projects that explore and implement promising practices at different stages of their development and implementation, and creates a pathway for projects from their initial inception to their full potential. Awardees have up to two years to complete their project:
Seed Funding: Maximum $2,000 with no matching requirement
Matched Funding: Maximum $5,000 with matching funds from another source
Support Stream: Apply to get access to an educational technology or instructional design specialist for up to 150 hours per year per project. This is a non-cash award, but it's worth an equivalent of $20,000 that can be used as an in-kind contribution when applying elsewhere for funding.
Applicants must choose which stream they are applying for at the time of application.
Projects that require funding of more than $5,000 are encouraged to consider the LEAF initiative https://www.leaf.provost.utoronto.ca or other funding sources http://teaching.utoronto.ca/teaching-support/u-of-t-resources/funding-resources/.
2019 Thematic Areas
The key thematic areas of the ITIF program primarily aim to support three broad categories of projects within the University's credit program divisions: high-impact teaching practices, the development of learning analytic systems and the President's Three Priorities:
1. Leverage our urban location more fully, for the mutual benefit of university and city
2. Strengthen and deepen key international partnerships: well-defined strategic focus
3. Re-imagine and re-invent undergraduate education
Proposals that integrate one or more of the following key thematic areas will be given preference. This list is not exhaustive. Proposals that address the goals through alternative means are encouraged:
Curriculum design: Support the development, renewal or redesign of program objectives and learning outcomes, including alignment with course-level outcomes, assessment, and student experiences. Initiatives might involve a whole program, a collection of courses (e.g., all second-year courses), or the whole Faculty. A Faculty or unit may be interested in investigating the development of specific student skills (e.g., critical thinking or communication) within a program.
Enhancement of student assessment and feedback processes: Enhance student assessment and feedback processes and outputs to ensure all students receive the highest quality support and direction to achieve learning and life goals.
Undergraduate student research: Research involvement supports the development of creativity, methodology design, critical thinking, analytic expertise, and other key skills. Projects can come in the form of establishing new opportunities for mentored research, supporting students in developing knowledge and skills developed through research, and creating tools that help undergraduate students better understand and articulate the learning outcomes achieved through research activities.
Experiential learning: Expand the availability of learning opportunities in authentic and relevant contexts. This can come in the form of work-integrated learning, community-engaged learning, research opportunities, placements, field courses, unique project-based learning, etc.
Diversity-related initiatives: It is critical to embed in the curriculum teaching and learning from diverse perspectives.  The UofT community will benefit from the knowledge gained through the development and inclusion of curricular content and pedagogical approaches from diverse cultural perspectives.
Sustainability-related initiatives: Build on the University's academic strength in education on climate change by seeding academic initiatives in climate science, environmental engineering, earth sciences, sustainability, public policy, law, etc.
Community engagement: Leverage the University's geographic location within the greater Toronto region in order to provide students with new and imaginative ways to engage with and deepen their understanding of local partners and their issues, through both research and practice.